Together with you, we will be happy to plan your unforgettable stay and show you very special excursion destinations in the regions of Flensburg and Glücksburg. Visit us at our hotel on the Baltic Sea and enjoy a relaxing time out by the sea. Our arrangements make dreams come true. In addition to our seasonal arrangements, we also offer year-round packages for your holidays at the Baltic Sea. Here you can decide for yourself which category you would prefer for your stay at the Strandhotel.
Enjoy a Tasterday
Where fine cuisine finds its home, perfect taste is the result of passion. On your taster day, enjoy our Restaurant Felix, recommended by the MICHELIN Germany 2022 guide. In addition, our wellness lounge invites you to relax. Here you will find rest and relaxation in the sauna, in the steam bath or with a soothing massage.
Christmas in the white castle
Our Danish neighbors call it "hyggelig" when it gets really cozy – and we cordially invite you to this atmosphere during the festive season. Experience our elegant Scandinavian ambience and let yourself be pampered by the award-winning cuisine of our house.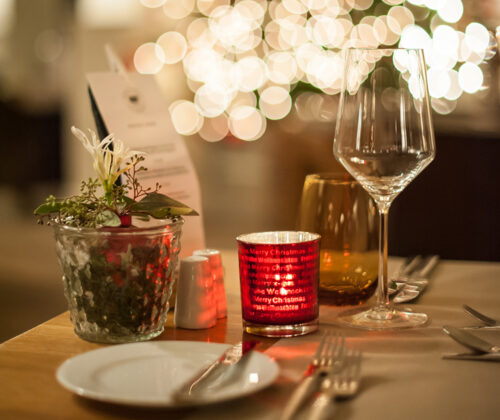 New Year's Eve in the white castle
Celebrate Miss Sophie's famous birthday and start 2023 with a culinary treat. Our New Year's Eve arrangement offers many beautiful experiences which will make the last days of the year very special memories.
Your booking request
Can only be booked in combination with hotel rooms (except for holiday apartments or Intermar mini apartments).