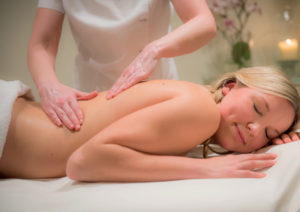 Exclusive
Products
We offer a wide array of treatments in our wellness lounge, from nourishing facials with exclusive products from Maria Galland, to beauty treatments that highlight your inner beauty, as well as soothing massages that rejuvenate your body and stir the senses. We differentiate between our facial treatments, beauty treatments, classic massages and our full body treatments. Discover our varied selection of relaxing massages and nourishing cosmetic treatments, and book an appointment today.
Wellness
to enjoy
Our Wellness-Lounge at Strandhotel Glücksburg offers numerous wellness facilities and treatments at our beach hotel close to Flensburg – both for our hotel guests and for external day guests as well. Relax and enjoy a complete wellness program of your choice: Finnish sauna, bio sauna, infrared heat, steam bath, fitness training, various back and full body massages, peelings, skin care with natural cosmetics, facials, manicures, pedicures, as well as eyebrow and eyelash care – Strandhotel Glücksburg wants to make you happy!
Your Wellness Team
Wellness and pampering at
Visit us at our beautiful beach hotel by the Flensburg Fjord and let us pamper you – our Wellness-Lounge offers the ideal place for you to just relax and unwind. Experience one of our many soothing and recuperating wellness treatments and let your mind wander freely.
Whether in combination with an extensive breakfast or an exquisite dinner in restaurant Felix, or just as a pure wellness day: just lay back, leave your cares behind, and enjoy Scandinavian ease, our warm-hearted staff and, upon request, a relaxing massage or a nourishing cosmetic treatment.
We are always at your disposal! Enjoy pure wellness by the Baltic Sea, whether you are a guest at Strandhotel or just in for a treatment – we look forward to your visit!